Fytovore®
Do you have a product full of good stuff from plants but not sure how to highlight it? Let us help you to show the good in your food and to utilize it in your R&D and marketing!
The current nutritional information included in food and beverage packaging and websites offer a solid overview of the contents of a product: overall energy, protein, carbohydrates, fiber, and even some vitamins. But there are many things that are left in the dark. Phytochemicals are an essential part of the health benefits of plant-based diets, but yet they are often ignored. The aim of the Fytovore project is to help highlight products with higher phytochemical content compared to other similar products. This will give added value to such products as well as help with R&D to achieve optimal food processing techniques that preserve these precious compounds.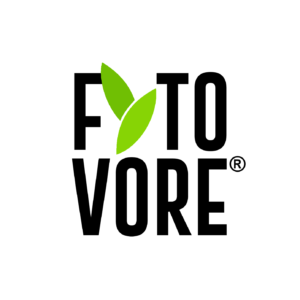 Show the good in your food!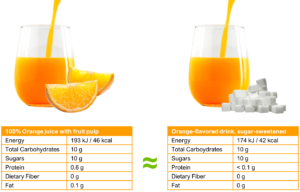 Let's take orange juice as an example. There are many different products out there, some containing 100% orange juice and some being heavily diluted with water and sugar. It probably goes without saying that the product with the high orange content is healthier than the sugar-sweetened drink. But yet, the nutritional information of these two different products can be almost exactly the same! Then what makes the difference?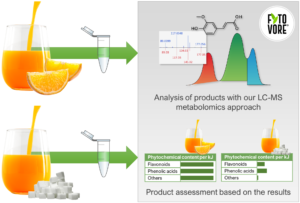 While these products seem almost the same based on the currently available information, we can show the reality by comprehensively measuring up to hundreds of phytochemicals from each product sample. The results will reveal how much there is remaining from the beneficial components that the original raw food, in this case the orange fruit, contained.
Are you interested to know how your product compares to competition or how to optimize food processing to better preserve phytochemicals?
Using Fytovore for your product
Our technology enables us to measure and then highlight plant-based compounds called phytochemicals in your food products and beverages. Phytochemicals are the compounds behind many of the health effects of plant-based foods and beverages. Typically, a single plant-based food or beverage contains hundreds of different phytochemicals that we can measure!
We are currently searching for pilot customers and partners who are interested to use Fytovore in their product development or B2B marketing and co-develop it even better.
See examples of our phytochemical analysis on food products and beverages:

Information for decision-making in optimizing processing pipeline to preserve phytochemicals
Phytochemicals are excellent markers of how food processing affects plant-based products. You can utilize the results of our phytochemical analysis to make choices in R&D on how to optimize your processing pipeline to preserve more plant-based goodness in the final product. Different processing steps in the food or beverage manufacturing (like heating or fermentation) can change the chemical composition of the product. By measuring the phytochemical content of the starting materials, intermediate steps and final products, you can have good overall view on how processing affects the phytochemical content of the final product.
Contact us if you are interested in this opportunity to differentiate and promote your plant-based food products and beverages!