February 3, 2021
Did you know that up to 2 kg of your body weight is made up of your gut microbiota? Out gut is inhabited by trillions of bacteria, viruses, and other microorganisms. Studies reveal that our guts harbour at least 1000 different species of known bacteria with more than 3 million genes (which is about 100 times the number of genes humans are estimated to have!). The good bacteria in our guts are responsible for a number of vital functions, such as digesting our food, vitamin production, and protection against bad bacteria. However, if they become chaotic, and the number of bad bacteria outnumber the good ones, in scientific terms called dysbiosis, they can lead to several undesirable effects on our health.
Experiencing diarrhoea after taking antibiotics, feeling bloated after eating broccoli can all be due to gut microbial dysbiosis. In addition, dysbiosis have also been associated with many chronic diseases including the most common chronic liver disease worldwide, non-alcoholic fatty liver disease (NAFLD). NAFLD describes a range of conditions caused by the accumulation of excess fat in the liver and affects around 24% of the world population. It encompasses liver conditions ranging from simple steatosis to non-alcoholic steatohepatitis (NASH). Moreover, NASH can progress to liver cirrhosis, which can lead to a clinical state of liver failure or liver cancer.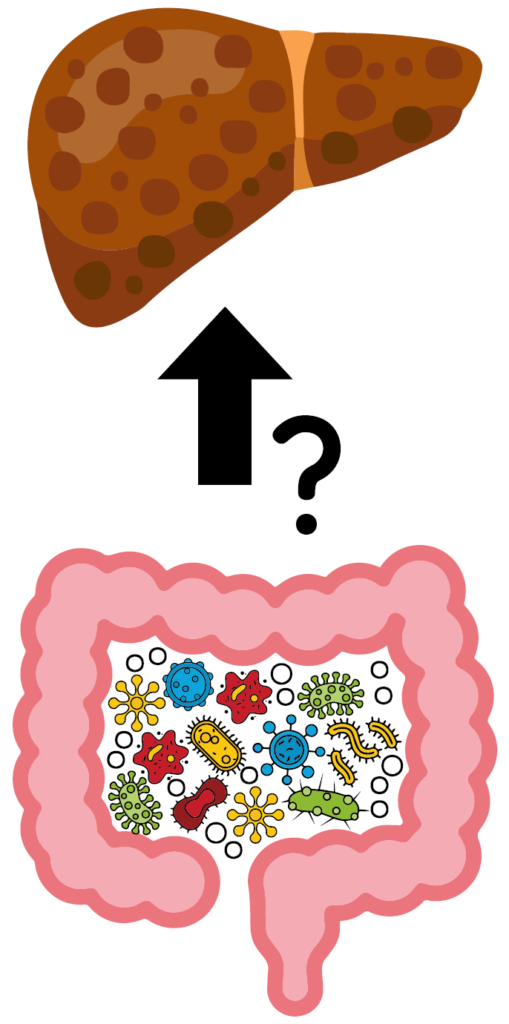 Eating unhealthy food, especially those rich in fat and fructose, and leading an unhealthy and sedentary lifestyle, contributes to rising occurrence of NAFLD. Recent research showed that dysbiosis of gut microbiota and its metabolites and intestinal permeability are other factors playing a role in NAFLD progression. But not everyone, who carries the risks factors, is progressing from simple steatosis to more severe forms of NAFLD. Despite current research advances the progression mechanism and the inter-patient variability is only poorly understood.
Currently, there are no treatments approved for NAFLD, leaving liver biopsy as the "gold standard" for NAFLD diagnosis and liver transplantation as the only remedy for treating these diseases. The standard therapy for NAFLD is adopting a healthy lifestyle including doing exercise and eating a healthy diet, but their efficiency towards NAFLD improvement is not fully understood.
EU Horizon 2020 funded multidisciplinary research consortium, BestTreat (Building a Gut Microbiome Engineering Toolbox for In-Situ Therapeutic Treatments for Non-alcoholic Fatty Liver Disease), is now working together to improve our understanding of NAFLD and to develop new diagnostic and therapeutic tools against it (www.besttreat.eu). It combines medical and nutritional research with bioinformatics and genetic engineering and brings together 8 commercial and academic partners from 4 EU countries. The BestTreat project, in essence, aims at understanding the relationships between human health and the associated microbiome which could provide a new and valuable tool for diagnostics and potential mechanisms for human therapeutic interventions.
Afekta Technologies is a SME partner of the BestTreat project. We are investigating the role of gut microbial metabolites in the development and progression of NAFLD. We use non-targeted LC-MS approach to screen for metabolites in biological samples with the aim of identifying biomarkers for NAFLD, which will enable us to improve the diagnostics of the disease. Further, we are also developing machine learning methods to predict the occurrence of the disease based on metabolomics data. Being able to predict and further diagnose asymptomatic individuals with early stage NAFLD will help to provide insights into the individual's current health, thereby making it possible to treat him/her at an early stage and prevent irreversible damage. The first results from this study is expected to be out in summer 2021. Till then stay tuned and support the growth of good bacteria in your gut by exercising and eating healthy.
Ambrin Farizah Babu
Afekta Technologies